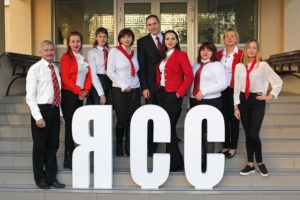 The department was established in 2002 from the staff of the State Research Laboratory for Quality Control of Medicines of the NUPh.
The creation of the department took place within the framework of the implementation of the strategic plan for the expansion of areas of training for university students in connection with the growing needs of the pharmaceutical sector in the country for specialists in quality control, assurance and management.
Since 2016, the department is a graduate for knowledge seekers in the specialty 073 Management of Educational and Professional Programs Quality, standardization and certification (qualification – manager (manager) of quality systems).
From 2002 to 2015 pp. The department was a graduate for students of specialties 7.18010010 "Quality, standardization and certification" (educational qualification level – specialist, qualification "Specialist in standardization, certification and quality"), as well as 8.18010010 "Quality, standardization and certification" (educational qualification level – Master, qualification "Master of Quality Management").
Also at the department are taught disciplines for almost all specialties of the University.
For the period 2002-2018 More than 1600 quality specialists for Ukraine and 20 countries of the world were trained at the department. Among the graduates of the department are many high-ranking officials of the Ministry of Health of Ukraine, the State Service of Ukraine, the State Expert Center of the Ministry of Health and other regulatory and supervisory bodies, manufacturing enterprises, distribution companies and pharmacies. In addition, specialists from many other fields — from workers in the oil refining, food and light industries — to the military, lawyers, linguists, and veterinarians were students of the department.
The issue of quality in recent years has become even more urgent, which is connected with the need to bring Ukrainian products to foreign markets, increase the competitiveness of national producers and increase the country's export potential. It is for these reasons that in some recent years, a stable competition has been observed (more than two people per place) for some forms of training in the KCC educational and professional program.
The tasks for the development of the department for the following years are as follows:
Improving the effectiveness of career guidance and information and advocacy activities through the expansion of relationships with employers.
Improving the educational and professional program Quality, standardization and certification in the framework of specialty 073 Management by taking into account recent changes in the regulatory framework in the field of standardization, conformity assessment, quality management and environmental management.
Intensification of scientific research in the direction "Formation and development of quality management systems in pharmaceutical enterprises."
Planning and approval of doctoral dissertations by leading associate professors of the department.
Creation of a monograph on the history of the quality management department, etc.
Department in figures and facts.