Dear colleagues!
We inform you that on May 18th, 2018
on the base of National University of Pharmacy will take place the
ХIIth Scientific-practical conference with international participation
"QUALITY MANAGEMENT IN PHARMACY"
The conference organizer: quality management department of NUPh
Subjective directions of the conference:
Trends and prospects of quality assurance and management development in pharmacy.
Standardization and quality assurance throughout the vital cycle of a drug (from research and development – to production, distribution and application).
Formation and implementation of quality management systems (QMS) and integrated management systems (IMS) at chemical-pharmaceutical and biotechnological enterprises.
Personnel training on quality control, assurance and management for pharmaceutical branch of healthcare.
Organization and improvement of quality management departments activity at pharmaceutical enterprises.
Risk management for pharmaceutical products quality.
Monitoring and efficiency analysis of pharmaceutical quality systems (PQS).
Audits at pharmaceutical sector enterprises.
Activity on qualification (premises, equipment, systems) and validation (technological processes, cleaning processes, analytical methods) at pharmaceutical enterprises.
Provision of measurements quality in medicines quality control labs.
Regulatory activity in medicines circulation.
Quality management in practice of pharmacy institutions and distribution companies.
The question of the quality of food additives, veterinary and cosmetic products.
System of environmental, energy, social management and other management systems to pharmaceutical companies.
Additional subjects are possible, but require discussion with organizing committee.
The conference is held with the participation of pharmaceutical companies, regulatory bodies, research and academic institutions.
Conference languages: Ukrainian, English, Russian.
Providing of materials for participation in the conference
In order to participate in the conference the registration form (https://goo.gl/forms/BtfyCXZbHAOPoYC93) should be filled in with mandatory attachment of thesis in . .doc / docx up to May, 09th, 2018, or send to: qualitynuph@gmail.com.
The thesis sent in a different way will not be considered!
The publication of materials is FREE.
Demonstrative materials (slides of presentations in format MS PowerPoint versions from 2007) should be sent to qualitynuph@gmail.com before May, 10th, 2018.
The organizing committee for the XI scientific and practical conference with international participation "Quality Management in Pharmacy" is located at the National University of Pharmacy, Department of Quality Management, 61168, Kharkov, 4, Valentynivska str., room 2 (transfer from railroad and bus station by subway to the station "Studentska"), phone:. (0572) 68-56-71
Responsible persons:
Gubin Yury Ivanovich +38-050-400-94-65, qualitynuph@gmail.com or x123@ua.fm
Spiridonova Natalia Vitalevna +38-093-991-12-92, qualitynuph@gmail.com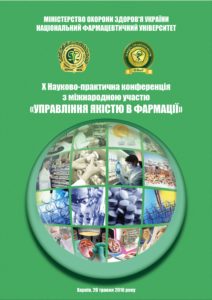 Materials of the conference "Quality Management in Pharmacy" 2013
Materials of the conference "Quality management in pharmacy" 2014
Materials of the conference "Quality Management in Pharmacy" 2015
Materials of the conference "Quality management in pharmacy" 2016
Materials of the conference "Quality management in pharmacy" 2017
Materials of the conference "Quality management in pharmacy" 2018
---