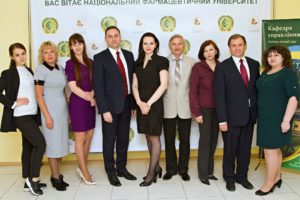 "Quality as beauty: attracts everyone.
Quality as Talent: either yes or no.
Quality as money: everyone wants "



We are learning to create quality!
The department has 2 professors, 5 assistant professors and 2 assistants (3 doctors of science, 6 candidates of science).
100% of teachers of the department have a scientific degree, 80% have an academic title.
All teachers have the appropriate qualifications in the direction of the discipline that they teach.
Associate professors involved in teaching the main profile disciplines of the educational program "Quality, Standardization and Certification" have corresponding certificates and certificates (in particular, certificates of the European Organization for Quality (EOQ), the German Society for the Certification of Management Systems DQS, UkrNDNC and other organizations), confirms the competence of the employees and allows professionally to engage in audits of management systems and practical consulting activities.
The department belongs to the pharmaceutical faculty No. 3 and is included in the profile block of economic and administrative disciplines.
Location of the department: Ukraine ,. Kharkov, 61168, ul. Valentinovskaya, 4, educational and production building, room # 2.
Phone: (+380572) 68-56-71, 097 330-33-22
Web-address of the department's website: http://quality.nuph.edu.ua/
(Unofficial reference site – http://quality.ucoz.ru)
e-mail: quality@nuph.edu.ua, quality_kharkov@ukr.net
Head of Department
Viacheslav Lebedynets
Dr. Pharmaceutical Sciences, Associate Professor
Phone: (+380572) 68-56-71, 097 330-33-22
e-mail: quality@nuph.edu.ua
The head teacher of the department:
Elena Romelashvili, Candidate of Pharmaceutical Sciences, Associate Professor
e-mail: quality@nuph.edu.ua, osromelashvili@gmail.com
Methodologist of the department:
Elena Tkachenko, Candidate of Pharmaceutical Sciences, Associate Professor
e-mail: quality@nuph.edu.ua