3 June 2019
The specialty "Quality, Standardization and Certification" (QSS) was founded in the National University of Pharmacy (NUPh) in 1999. Since 2002, the Department of quality management, which was then headed by Professor Sergei Kovalenko, became a graduate for the QSS specialty. Since 2016 the head of the Department is Doctor of Pharmacy, Professor Viacheslav Lebedynets.
The first issue of the QSS specialty is only two persons, one of whom is the Doctor of Biological Sciences, professor Rymma Yeremenko, today is the head of the Department of Clinical Laboratory Diagnostics of the NUPh. More than 1400 students have already received education in this field, most of which working in the field of pharmacy, as well as in many other fields.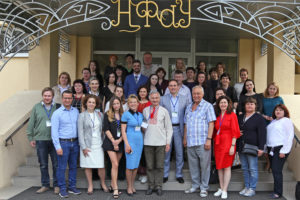 At present, it can be said without exaggeration that this is a very popular education: the last 5 years there is a stable competition among the entrants, especially – on the correspondence form of education. In December 2018, the accreditation of the educational-professional program (EPP) of the QSS was successfully passed. The plans of the department for the next academic year 2019-2020 are the introduction of a new EPP under the working title "Quality Management in Pharmacy", which will be especially interesting for practicing pharmacists who serve as the Authorized Quality Person, internal auditors, validation and qualifications specialists, risk manager, etc.