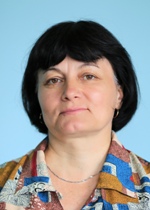 Tatyana Shyteyeva
C. Sc. in Pharmacy, teaching assistant
Born in Kharkov, Ukraine. In 1987 she graduated from the Kharkov Polytechnic Institute, receiving a diploma in the specialty "Chemical technology of plastics", qualification chemical engineer-technologist.
From 1980 to 2011 employee of the State Scientific Center of Drug (from laboratory assistant to head of sector). More »

Natalia Spyrydonova
teaching assistant
Natalia Spyrydonova was born on 02.01.1984 in Kharkov.
In 2006 graduated from the National University of Pharmacy.
During her studies, she worked as a laboratory assistant in the department of quality management in pharmacy NUPh. More »

Tetiana Karamavrova
teaching assistant
In 2014 she graduated from the National University of Pharmacy, an educational qualification specialist with a degree in Pharmacy, received a professional qualification as a pharmacist.
In 2015, she received a second degree in the specialty "Quality, Standardization and Certification" (NUPh). After graduating from the magistracy, she worked at the NUPh, department of quality management, from 2016 she held the position of chief. More »