31 October 2019
October 31 Undergraduates of EPP Quality, Standardization and Certification together with students of EPP Industrial Biotechnology participated in the training "Personal Brand Program" based on NetWork platform.
Invited Coach – Ilya Shelementsev – told our students about NetWorking (social networking, useful work relationships) – a social and professional activity aimed at quickly and efficiently solving various personal and work tasks with the help of a circle of friends and acquaintances. The coach revealed the issues of creating personal and business relationships as the basis of social capital of each of us, described such well-known principles as the "rule of 6 handshakes" and "the rule of 4*12" (the importance of the first impression), justified the need to create personal space interacting with their environment. Of particular interest was the discussion of "Why is it important to help others?" and "How is it "delicious" to talk about yourself?".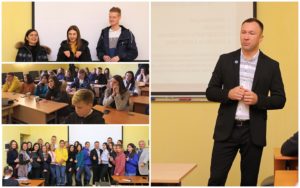 We thank our colleagues from the department of practice and promotion of employment, as well as directly to Elijah Shelementsev for the opportunity to learn new, interesting and useful information for personal development!