31 May 2018
The University always pays attention to student sport, and the football team thanks him with victories in competitions.
In 2016, the NFUU team took the first place in mini-football in the first league of Kharkiv universities, then won the International Football Tournament "Unity". In the past year – won 1 place in the "Cup of Trade Unions" and 1 place in the "Cup of Transcarpathia".
In 2018, there are new football achievements. This is the 1st place in the "Transcarpathian Cup" and the 1 st place in the Olympics of medical workers.
But the main achievement was the 1st place in the first league and the entrance to the Higher League of Kharkov universities from big football.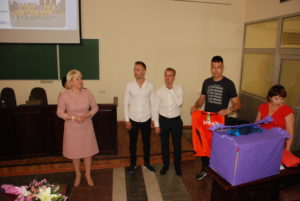 On behalf of the collective of the NFUU, the rector A.A. Kotvitskaya presented the children with a brand new, high-quality game form.